101 Benefits of Building A Custom Home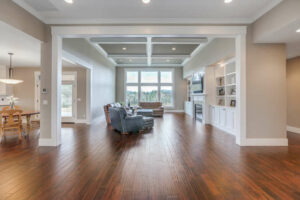 Here is a list of benefits of building a custom home
Design Control: You have complete control over the design and layout of your home.
Tailored to Your Lifestyle: Customize the space to suit your specific needs and lifestyle.
Energy Efficiency: Incorporate the latest energy-efficient technologies and materials.
Personalization: Choose the interior and exterior finishes according to your preferences.
Modern Technology Integration: Integrate smart home technologies from the start.
Unique Architecture: Create a one-of-a-kind architectural design for your home.
Optimized Space: Maximize the use of space based on your requirements.
Future Expansion: Plan for future expansions or additions if needed.
Location Choice: Build in the location of your choice, considering factors like school districts or proximity to work.
Up-to-Date Building Codes: Ensure compliance with the latest building codes and standards.
Quality Construction: Control the quality of materials and craftsmanship during construction.
Personal Satisfaction: Experience a sense of accomplishment from building your dream home.
No Renovation Headaches: Avoid the need for major renovations or repairs from the outset.
Financial Control: Have control over the budget throughout the construction process.
Custom Features: Add unique features that may not be found in existing homes.
Personalized Storage Solutions: Design storage spaces to meet your specific organizational needs.
Health Considerations: Choose materials that are hypoallergenic or eco-friendly for better indoor air quality.
Environmental Impact: Opt for sustainable building practices and materials.
Long-Term Cost Savings: Invest in high-quality materials to minimize maintenance costs in the long run.
Integrated Landscaping: Plan and integrate landscaping according to your preferences.
Privacy: Design your home layout for optimal privacy within the property.
Community Integration: Choose a community that aligns with your values and lifestyle.
Future-Proofing: Plan for technological advancements and lifestyle changes in the future.
Unique Floor Plans: Create a home layout that suits your specific needs and flow preferences.
Custom Lighting Solutions: Design lighting to enhance the ambiance and functionality of each space.
Natural Lighting: Maximize natural light according to your preferences.
Personal Retreats: Incorporate personal retreat spaces like a home office or a meditation room.
High Ceilings: Design spacious interiors with high ceilings for an open feel.
Home Automation: Plan for integrated home automation systems.
Energy-Efficient Appliances: Choose and install the latest energy-efficient appliances.
Built-In Storage: Incorporate built-in storage solutions for a clutter-free home.
Material Quality: Select high-quality materials for durability and aesthetics.
Sustainable Energy Sources: Explore options for solar panels or other sustainable energy sources.
Built-In Technology Infrastructure: Plan for wired internet and other technological infrastructure.
Personalized Color Palette: Choose paint colors and finishes to suit your personal taste.
Noise Control: Design for optimal soundproofing in bedrooms, home offices, etc.
Future Resale Value: Build with an eye on potential resale value if needed in the future.
Personalized Exterior Aesthetics: Control the look and curb appeal of your home.
Efficient HVAC Systems: Invest in state-of-the-art heating, ventilation, and air conditioning systems.
Built-In Furniture: Incorporate built-in furniture for a seamless and space-efficient design.
Integration of Hobbies: Design spaces tailored to your specific hobbies or interests.
Flexibility in Room Functions: Plan for flexible use of rooms as needs change over time.
Customized Home Office: Design a home office space optimized for productivity.
Outdoor Living Spaces: Plan for customized outdoor living areas.
Aging in Place: Incorporate features that allow for aging in place if needed.
Optimized Kitchen Layout: Design a kitchen layout that suits your cooking style and preferences.
Unique Exterior Materials: Choose exterior materials that set your home apart.
Custom Fireplaces: Design a fireplace that suits your aesthetic and functional preferences.
Pet-Friendly Spaces: Plan for pet-friendly features and spaces.
Custom Window Designs: Choose window styles and placements based on your preferences.
Sweat Equity: Invest your own effort into the construction for a sense of "sweat equity."
Custom Entryways: Design an entrance that makes a statement and reflects your style.
Control Over Building Materials: Handpick all the materials used in your home's construction.
Privacy from Neighbors: Plan for optimal privacy from neighboring properties.
Custom Flooring: Choose flooring materials and designs that align with your taste.
Customized Bathrooms: Design bathrooms with features and layouts you desire.
Control Over Construction Schedule: Have control over the construction timeline.
Custom Exterior Lighting: Plan for customized exterior lighting solutions.
Control Over Contractors: Handpick and supervise contractors for quality assurance.
Customized Closet Spaces: Design closets that maximize storage and organization.
Unique Fixtures: Choose unique fixtures for bathrooms and kitchens.
Creative Use of Space: Optimize small or unusual spaces for creative uses.
Personalized Outdoor Features: Plan for personalized outdoor features like patios or decks.
Control Over Landscaping Design: Choose and design landscaping according to your preferences.
Energy-Efficient Windows: Invest in energy-efficient window options.
Custom Staircases: Design custom staircases that add architectural interest.
Personal Art Spaces: Plan for spaces to display and enjoy your art collection.
Control Over Home Orientation: Choose the orientation of your home for optimal sunlight.
Custom Shelving: Design built-in shelves to showcase your personal collections.
Custom Hardware: Choose unique and customized hardware for doors and cabinets.
Control Over Focal Points: Design focal points in each room according to your taste.
Personalized Outdoor Views: Plan for optimal views from key living spaces.
Home Gym Design: Incorporate a home gym with the equipment and layout you prefer.
Customized Children's Spaces: Design bedrooms and play areas tailored to children's needs.
Control Over Surrounding Greenery: Choose and plant trees and greenery around your home.
Custom Entry Landscaping: Design landscaping around the entrance for a welcoming feel.
Control Over Room Sizes: Customize room sizes based on your preferences and needs.
Custom Pool or Water Features: Plan for a custom pool or water features in your backyard.
Personalized Exterior Accents: Choose exterior accents and details to suit your style.
Design for Cross-Ventilation: Plan for natural cross-ventilation in your home.
Custom Outdoor Cooking Spaces: Design an outdoor kitchen to suit your entertaining style.
Personalized Backyard Retreats: Plan for personalized backyard retreats or gardens.
Control Over Exterior Color Scheme: Choose an exterior color scheme that appeals to you.
Customized Laundry Rooms: Design a laundry room that meets your specific needs.
Control Over Exterior Maintenance: Plan for easy-to-maintain exterior materials.
Custom Pet Spaces: Design spaces and features specifically for your pets.
Personalized Audiovisual Integration: Plan for customized audiovisual integration throughout the home.
Control Over Exterior Décor: Choose and plan for exterior décor elements.
Customized Home Fragrance System: Integrate a customized home fragrance system.
Control Over Natural Light Exposure: Plan for natural light exposure in each room.
Custom Garage Layout: Design a garage layout that suits your storage and parking needs.
Control Over Exterior Architecture: Choose architectural features for the exterior.
Customized Mudrooms: Design mudrooms tailored to your family's needs.
Control Over Exterior Privacy Features: Plan for exterior privacy features.
Custom Window Treatments: Choose window treatments that match your interior design.
Design for Indoor-Outdoor Living: Plan for a seamless indoor-outdoor living experience.
Custom Guest Spaces: Design guest rooms tailored for optimal comfort.
Control Over Exterior Landscaping Maintenance: Choose low-maintenance landscaping options.
Personalized Outdoor Recreation Areas: Plan for outdoor recreation spaces you enjoy.
Custom Paint Finishes: Choose custom paint finishes for walls and ceilings.
Design for Acoustic Control: Plan for optimal acoustic control in each room.
Building a custom home offers unparalleled flexibility and control over every aspect of your living space, ensuring that your home truly reflects your vision, preferences, and lifestyle. From the layout to the smallest design details, a custom home provides a unique and personalized sanctuary that goes beyond what buying an existing home can offer.